IJEN EXPEDITION
Ijen Crater Tour Package, Mount Bromo Tour Package, Blue Fire Ijen Crater
Ijen crater tour from Bali 1 Day | Ijen crater tour
Ijen Crater Tour from Bali is probably one of my favorite tourism destinations for first-time visitors in Indonesia. The landscape is out of this world. One of the highlights of visiting Ijen is the blue flames, which you can only see at night.
The flames appear at the base of the Ijen crater and are caused by sulphuric gas catching fire. You can find an article about the flames in National Geographic here. Ijen Volcano is a Stratovolcano mountain which is located on the border between Banyuwangi Regency and Bondowoso Regency, East Java, Indonesia. Ijen Crater (Kawah Ijen) has the highest peak of 2.799 meters above sea level.
I've been the iconic places, even been the favorite destination for the tourists. Why? Because we ensure you that if the Ijen Crater is the best choice for their vacations. Ijen crater has all the wonderful things, that you want to see it.
The turquoise Lake, that's what the tourist called Ijen Crater, is One of the Instagramable places to take some photos. Ijen Crater Lake has a depth of 200 meters, and the crater has a high acidity that is close to zero.
So that could dissolve the human body quickly. When we see the crater lake from the peak of Ijen Mountain we will see the oldest dam of Ijen Crater. The Ijen Crater Dam has built when in the Dutch era. It functions to avoid the overflow of crater water. You can also see the best sunrise ever and the rare phenomenon which is only two in the world, after Iceland, it is called "BLUE FIRE".
The blue fire has been there a few hundred years ago or maybe a thousand years ago. And yet, its existence was known around 1950. Blue fire formed because the solfatara hole with sufficient hot temperature (600 degrees Celcius) is burning the closest sulfurs.
Well, how we can go On the Ijen Crater tour starting from Bali?
Starting from Denpasar Airport, Kuta, Ubud, Sanur, or any other places in Bali, our English-speaking driver will pick you up at 6 pm, with an AC vehicle to bring you to the most western part of Bali in Gilimanuk (Ferry terminal to Java). The trip takes about 4 hours.
Once in Gilimanuk, the ferry ride takes 1 hour to reach Ketapang (Banyuwangi ferry terminal). Remember that Java is h-1 compared to Bali.
From there, at around 12:00 am we will bring you to the Paltuding rest area (1-1,5 hours). The road offers a number of magic landscapes in the middle of rice fields, small villages and one one the last primary tropical rainforest left on Java island rounded by numerous volcanoes. You will mainly enjoy those sceneries on the way back during the daytime.
From Paltuding Area, at around 1:30 am, you will start hiking to Ijen Crater. It takes about 1:30 -1:45 minutes for the 3km hike following a gentle slope and slightly uphill to reach the summit.
The path is pretty well maintained and in good condition and other views of rounding volcanoes and luxurious vegetation will accompany your journey. From the crater rim, providing you a gas mask, we will bring you down to see the blue fire right on the edge of the acidic lake (temperature of the lake: +- 40°c; Ph: 0,5; max depth:+-200m).
The laker is also the source for the river Banyupahit, resulting in highly acidic and metal-enriched river water which has a significant detrimental effect on the downstream river ecosystem.
Hike to go down (+- 45mins, rocky).
After enjoying the spectacular Blue Fire, we go back to the crater rim to enjoy the sunrise over the entire volcanic area.
The hike to go down takes about 45mins – to 1h. The driver will pick you up in Paltuding to go to have breakfast. After breakfast, we continue our journey to the Ketapang ferry terminal to cross to Bali (ferry +-1h).
Once in Bali, it takes about 4-5 hours to reach Denpasar, Ubud, Kuta, or Sanur. (Keep in mind that Bali is H+1 compared to java time). ARRIVAL at your final destination at 3-4 pm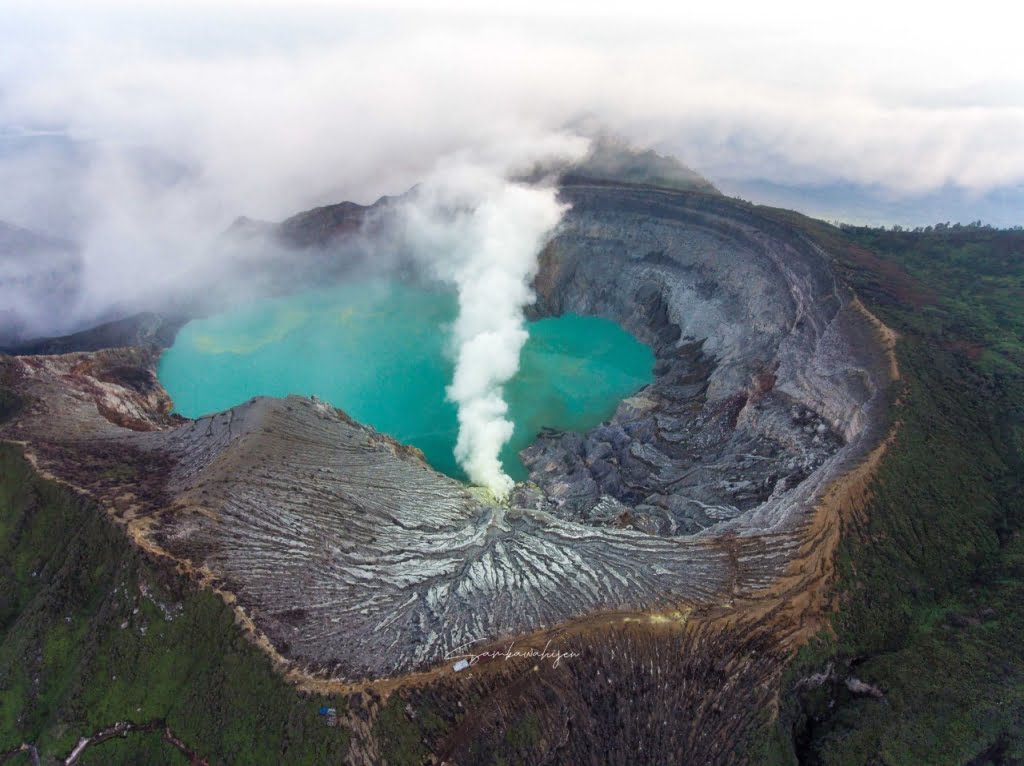 DETAIL TIME
06.00: pick up service
07.00-11.00 pm: drive to Gilmanuk harbor
11.00-12.00 am: go to java by ferry
12.00-01.00 am: drive to the Ijen parking area
01.00-02.30 am: hiking to the Ijen crater rim
02.30-03.00 am: down the crater for blue fire
03.00-04.00 am: experience the blue fires0
4.00-05.00 am: back to the crater rim
05.00-06.00 am: enjoy the view over   the acidic lake and sunrise
06.00-07.00 am: back to the parking area
07.00-08.00 am: breakfast
08.00-04.00 pm: back to Bali ( Ubud )
4.00 PM: finish the program
PRICE
1 pax: IDR. 3.200.000
2 pax: IDR. 1.887.000/pax
3 pax: IDR. 1.543.000/pax
4 pax: IDR. 1.453.000/pax
5 pax: IDR. 1.424.000/pax
6 pax: IDR. 1.400.000/pax
7 pax: IDR.  1.342.000/pax
8 pax: IDR. 1.220.000/pax
9 pax: IDR. 1.133.000/pax
10 pax: IDR. 1.100.000/pax
Included
Transportation from Bali to Java
Fery
Entrance fee
Trekking guide
gas mask
local breakfast
Excluded
Lunch and dinner
tipping guide and driver
Quick summary of the Ijen crater tour from Bali One Day
– Pick up from the requested pick up location at Bali
– Going to Gilimanuk ferry port
– Check in the ferry, going to Ketapang ferry port
– Going to Ijen basecamp (Paltuding)
– Coffee break/safety briefing
– Hiking to Ijen Volcano
– Blue flames and Ijen crater sightseeing
– Back to Basecamp
– Going to Banyuwangi, breakfast at a restaurant
– Going to ferry port
– Drop off service to Bali area (Kuta, Denpasar, Seminyak, Canggu, Ubud)
OTHER PACKAGE: FOR IJEN VOLCANO
The things that you should bring during the trip Ijen Crater Tour:
– Decent shoes for hiking or trekking (with a good grip on its sole)
– Light clothes for trekking (inner layer)
– Gloves / any personal items needed to prevent cold weather
– Warm jacket (preferably windproof)
– Raincoat and tissues (available at basecamp)
– Small backpack to carry items
– Cap or hat (it gets sunny after morning)
– Personal ID card
– Snacks or any light meals needed for long trekking
– Camera or any other tools to capture pictures
Read before you book the Ijen Crater tour:
– Destination area is restricted to people with asthma
– Destination area is restricted to people with heart disease
– Destination area is restricted to people with a serious medical issues
It– Not recommended for pregnant travelers
– Not recommended for travelers with back problems
– Advised for fit and healthy traveler
Pemuteran: 09.30 PM (30 minutes to harbor)
Lovina: 09.00 PM (1,5 hours to harbor)
Munduk: 08.00 PM (2 hours to harbor)
Ubud: 07.00 PM (4 hours to harbor)
Sanur: 06.30 PM (4-5 hours to harbor)
Kuta: 06.30 PM (4-5 hours to harbor)
Jimbaran: 06.30 PM (4-5 hours to harbor)
Uluwatu: 06.00 PM (5-6 hours to harbor)
Seminyak: 07.00 PM (4-5 hours to harbor)
Canggu: 07.00 PM (4-5 hours to harbor)
[wpforms id="715″]
Contact Us
If you have any questions, please contact us.